Hot Cheeto Everything?
Finally I was able to attend the media preview day for the LA County Fair. It's this little event that made me want to be a foodie. Watching my favorite online personalities share all the interesting food. Even after working for those outlets I still never got to go to this media event but Luckily a new friend of mine had a +1 cancel on her and I was able to take her place. There was a lot of food to sample and see on distplay. Way more than I could eat or feature so I grabbed what I could and reviewed them at my table. For sure Hot Cheetos have made their way onto a lot of the food including an insane Hot Cheeto stuffed pickel. You also have hot cheetos on corndogs and turkey legs! Go ahead and watch this short video featuring all the food and my short review. After the video i'll give you a rundown on the food and give you my opinions.
Now comes my favorite part, the play by play of the food. I'm going to be very honest here so please take into consideration that these are my own personal opinions. This isn't a paid piece and I wasn't even served free samples of everything. I'm going to alternate between bad and good food here so take notes and feel free to use this as your LA Fair Food Guide.
Let's kick this off with the most disappointing food I think i've ever reviewed. I know that's harsh and you will rarely see me give a bad review but this was almost offensive in nature. The Taquitos below were so pretty and festive!! It was the first thing I picked up out of all the food and also the first things I actually tasted even though in the video i pushed it back a little. I'm not sure how much they are but even if they were free i wouldn't want one. I laugh as I typed that because they're so sad. The Taquito is about 5 inches long but only has an inch and a half of extremely dry chicken in the middle leaving over an inch of emptiness on each end haha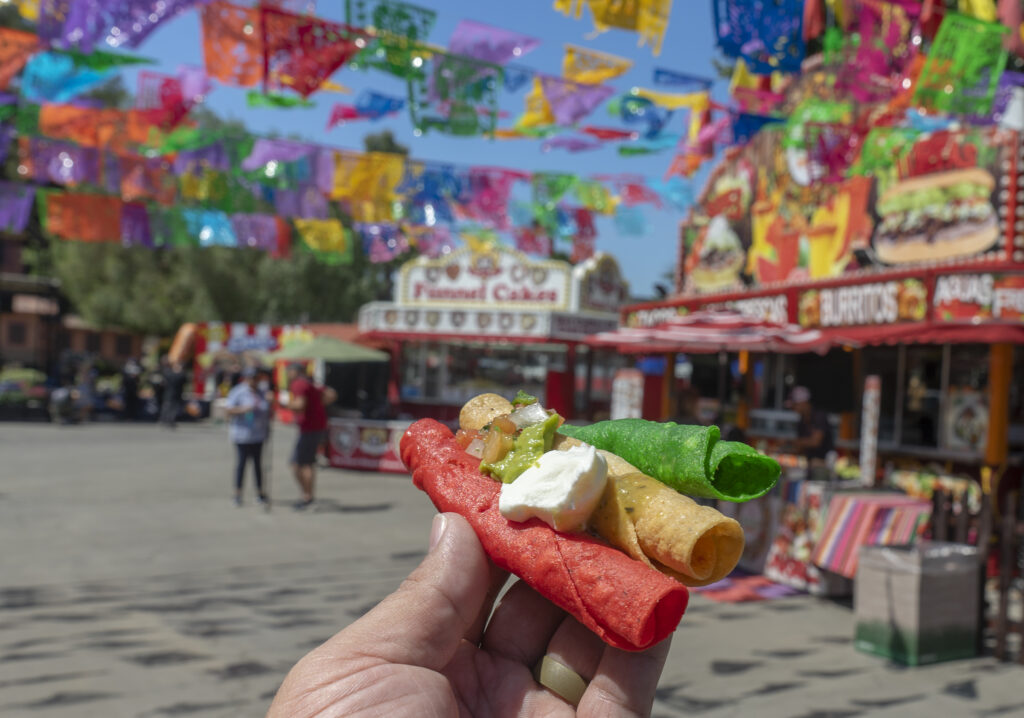 Let's keep the Mexican food theme rolling but switch it to the most impressive dish I really liked. I'm not a fan of Hot Cheetos but on food as a topping they work! Just when I think i'm over this trendy new ingredient something comes along and i'm hooked again. I honestly wasn't going to try this but someone at my table had one and talked about how good it was so I had to try it. This is a Buffalo Mac N Cheeese Chimichanga (but it's not deep fried) dipped in ranch and Hot Cheetos.  It's a lot to take in both in flavor and texture. I like complex food like this a lot and this was an experience. This was the total opposite of the half assed taquito I tried earlier. This was most excellet. Both the mac n cheese and the buffulo chicken were good on their own which made all the difference here. The Hot Cheetos were just on the one side so it wasn't too much.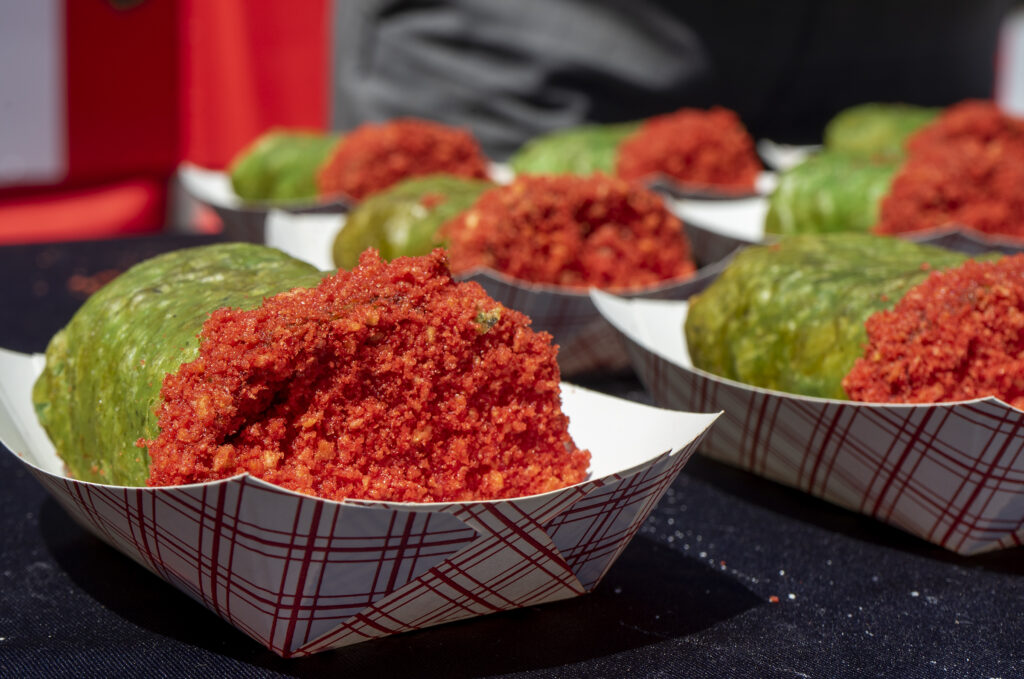 So yummy!
Now this one I really wanted to try but there's no way a cold sample would do it justice so I didn't even take a sample. This is the Rainbow Grilled Cheese and it's so cool! to get a warm one and get a good pic of puling it apart is so fun. I know it's been done a million times but I like it and I've actually never had one. So I'm can't say if it's good or not but I know I want one.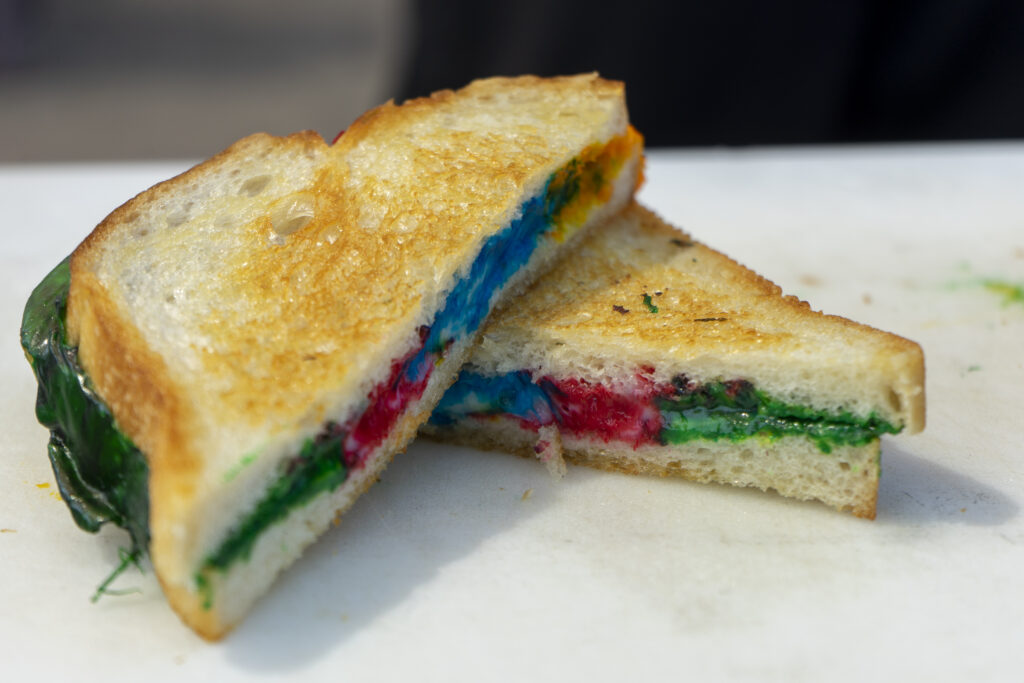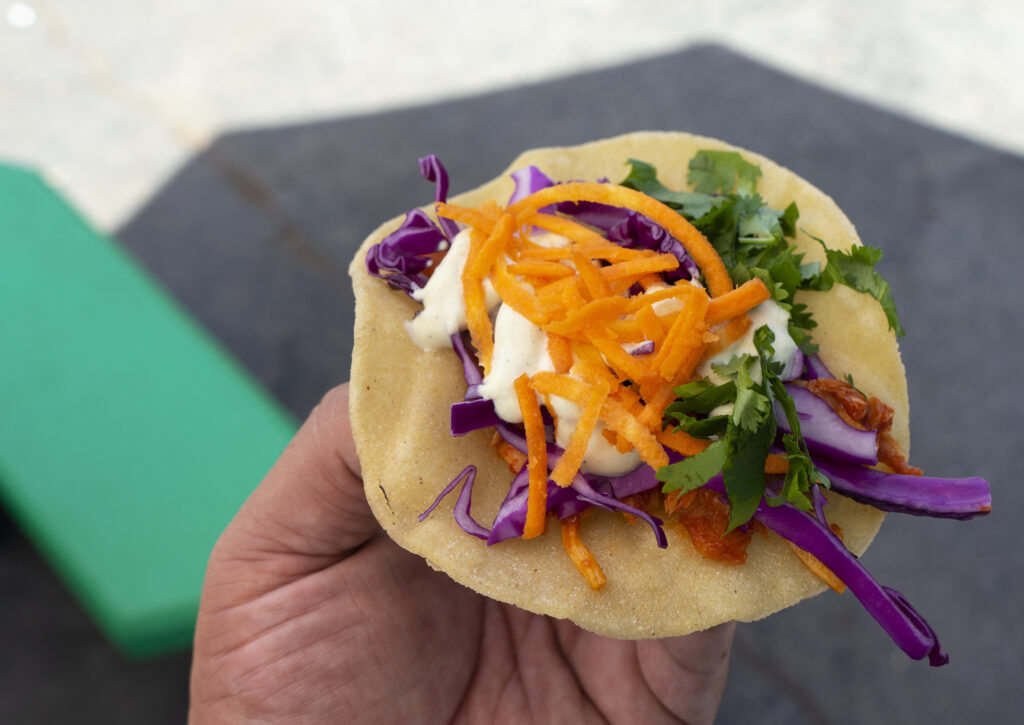 While I am a big meat eater I do appreciate what they've done with meat alternatives such as jackfruit. These Jackfruit Tacos were really good. The jackfruit does have a shredded meat consistency  and hey dress it up with sauces and spices to mask it further. While I wouldn't go out of my way to order these, I wouldn't turn one down. I am trying to cut down on my red meat intake but I'd order the chicken or pork before ordering these. I still give them a big thumbs up though.
This right here has to be the most disgusting thing i've heard of haha  The Hot Cheeto Stuffed Pickle topped with Hot Cheetos and cheese. Dude was so happy to make this in the video! it made me want to try it but there's no way. And I love pickles. The OC fair had a Pickle Stufed Corndog witch was a hollowed out pickle with a hot dog inside and then battered and deep fried....it wasn't very good. Just a hot soggy mess. I think this falls into that shock value food like the deep fried everything trend that finally passed.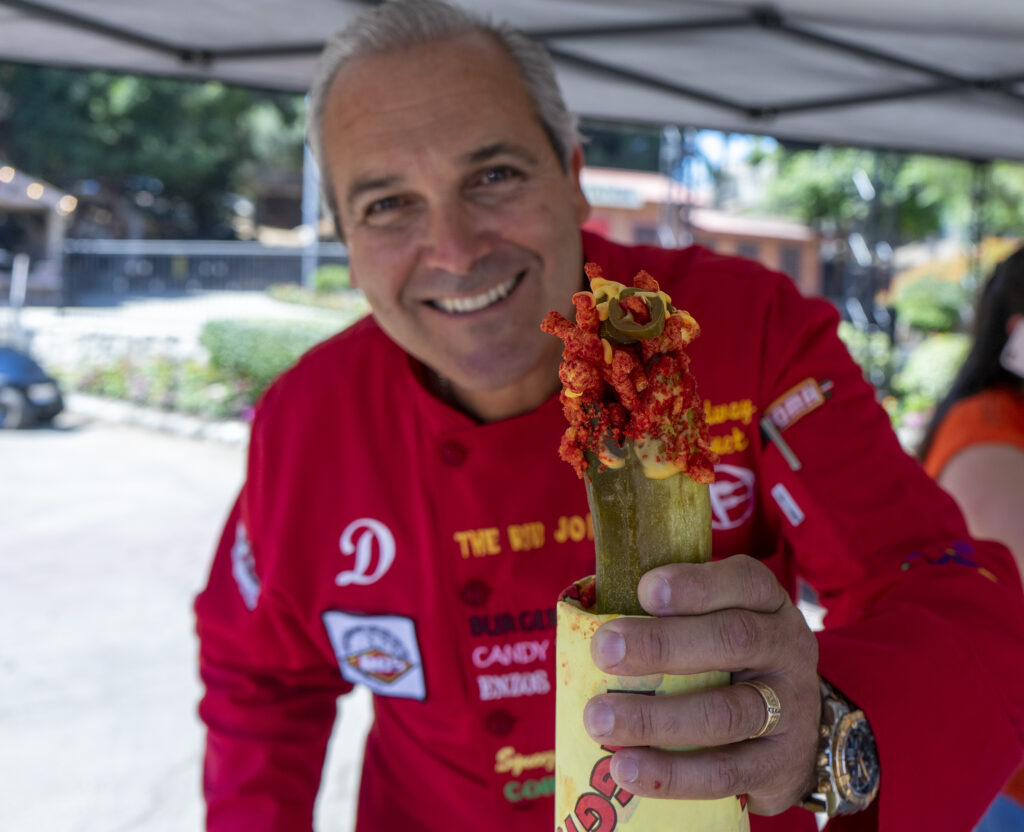 I think the future of fair food is going to be more healthy options, fusion food and dishes that are worth the money. The new generation of fair patrons have a different palet and expectations when it comes to food. Especially since the recent popularity of food fairs and pop ups, shock value food isn't going to cut it. I'm going to go out on a good note here and leave you with a dessert that really made my day. There was ice cream by Scoops on Tap. A handcrafted beer infused ice cream brand that was so good. The cones were all different colors and flavored, the ice creams flavors were imaginative and and delicious. When I go back to the fair with the fam i'm seeking these out!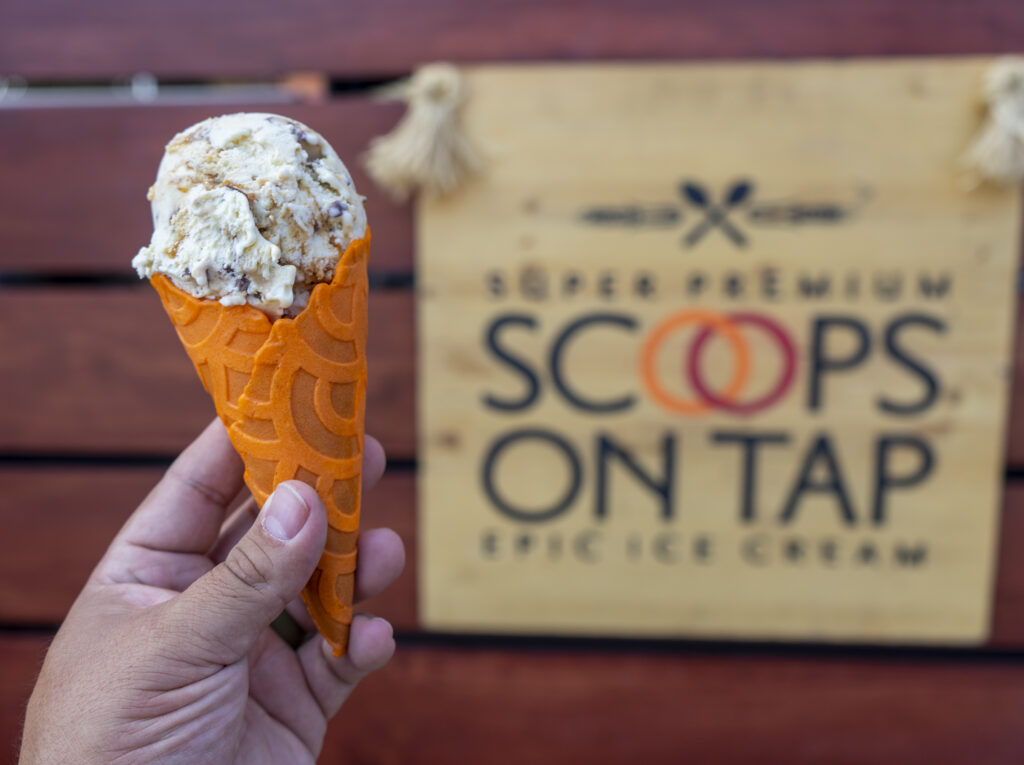 More info and directions
LA County Fair Aug. 30 – Sept. 22 (Closed Mondays and Tuesdays except Labor Day, Sept. 2)

Admission
| | | |
| --- | --- | --- |
| | Weekdays | Weekends + Holidays |
| Adults, 13+ | $14.00 (Wed. - Fri.) | $20.00 (Sat. - Sun.) |
| Child, ages 6-12 | $8.00 (Wed. - Fri.) | $12.00 (Sat. - Sun.) |
| Child, ages 5 and under | Free | Free |
| Seniors 60+ (Free on Wednesdays Noon - 3pm) | $10.00 (Wed. - Fri.) | $15.00 (Sat. - Sun.) |
Parking Prices
General Parking (Valid at Gates 9 & 17)
$15.00
VIP (Valid at Gates 9 & 17 when available)
$25.00
Valet (Valid at Gate 3)
$30.00
Season Parking Pass (Valid at Gates 9 & 17)
$60.00
For more info go to their website https://lacountyfair.com/